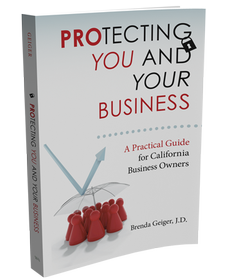 CALIFORNIA RESIDENTS: TO GET A FREE COPY OF THE LATEST EDITION OF Protecting You and Your Business: A Practical Guide for California Business Owners, PLEASE FILL OUT THE FORM ON THIS PAGE AND WE WILL MAIL IT OUT TO YOU RIGHT AWAY.
Protecting You and Your Business was written specifically for California Residents to answer many of the questions small to medium-sized businesses have about making sure they keep their legal ducks in a row.
For the sole proprietor, this book will help you compare the various business entitled to which you can convert your business in order to gain better tax savings and asset protection.
If you are operating your business with one or more partners, there is a chapter designed to help you through the pitfalls many face when designing an appropriate Buy-Sell Agreement to protect all parties involved.
Doctors, dentists, lawyers and other professionals will benefit from the plain English explanations in Chapter 6 which describes the various entities that these professionals can form as and the differences in liability protection as compared to non-professional practice businesses.
This book also chronicles how to maintain a liability shield between you personally and your business as well as discusses issues regarding business succession and coordination of your business with your estate plan.