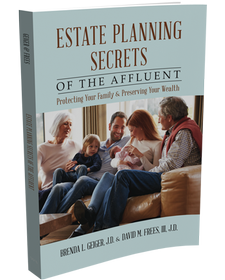 CALIFORNIA RESIDENTS: TO GET A FREE COPY OF THE LATEST EDITION OF Estate Planning Secrets of the Affluent, PLEASE FILL OUT THE FORM ON THIS PAGE AND WE WILL MAIL IT OUT TO YOU RIGHT AWAY.
Carlsbad Attorney Brenda Geiger Releases "Estate Planning Secrets of the Affluent" Book for California Residents
Local Estate Planning and Asset Protection lawyer writes new book revealing secrets typically reserved for the rich and famous.
Carlsbad, CA, September 15, 2015 — Attorneys Brenda Geiger and David Frees, III have created and published a new book focused on helping families to plan their estates to protect themselves from predatory creditors and estate taxes by revealing secrets typically reserved for just the affluent.
This exciting new book, titled, Estate Planning Secrets of the Affluent, Protecting Your Family and Preserving Your Wealth (2015), focuses on estate and asset protection techniques that are usually reserved for those in the top 1% of wealth in America. But many of these innovative strategies can be utilized by people with much less wealth.
Taking a straightforward approach, Geiger and Frees bypass the legalese to offer an easy to read guide to the protective strategies that can be utilized in estate planning to save families from personal and financial tragedy down the road.
"After losing my father at the age of 19, I saw things in my own family that were properly planned for and things that were not. I use my personal experiences as well as my years of professional experience to help my clients properly plan. My mission is to help my clients avoid the various land mines that could lay ahead for their family if the right estate planning is not done."—Brenda L. Geiger, J.D.
"This is a great resource for families and individuals who want to protect assets and who want to be informed consumers of legal and estate planning services it takes some complicated topics and presents them in ways that lay people can understand. It will help families considering estate planning to understand more of their options."—Steven J. Oshins, J.D.
Estate planning can be very complex. However, this book eases you through the legal jargon to give you a more plain English approach to estate planning strategies. Although not intended to be legal advice, it addresses legal issues that are often unknown and that most people haven't even considered. Geiger and Frees have the goal of helping make families aware of the unforeseen legal issues in estate planning they could encounter with no planning or inadequate estate planning.