Safeguarding the Nest, 4th Edition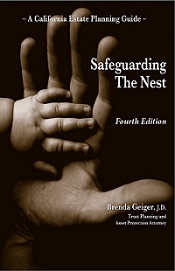 TO GET A FREE COPY OF THE LATEST EDITION OF SAFEGUARDING THE NEST, PLEASE FILL OUT THE FORM ON THIS PAGE AND WE WILL MAIL IT OUT TO YOU RIGHT AWAY.
Estate Planning expert Brenda Geiger, J.D. presents an easy-to-read estate planning guide to help families with the legal aspects of protecting their loved ones from having to experience the painful process of probate and on how to provide asset protection for their children and other beneficiaries through a properly drafted revocable trust. The book also includes an extensive list of the top mistakes that Brenda sees people typically making in their estate plans and how to avoid those mistakes.